Months ago, on her birthday, I realized that very few were wishing Miss Piggy happy birthday, I mean those people that REALLY knew her were. That was it. Because she didn't advertise her birth date, things stayed on the "down low" (if there is such a thing in social media). I wanted to do the same.
So, I tinkered with my settings which are now as complicated as a Boy Scout trying to unhook a bra (but he can tie a knot forty different ways). It was near impossible to rid my profile of my birth date. Too much time was wasted on this stupid task, so I temporarily plugged in a date similar to my birthday, swapping the month and date and then making me ten years younger. Why not?
My real birthday is 3-9, not 9-3. Although I had long forgot about my 9-3-78 FB birthday, many did not, as FB wont let others forget it. Personally, it's become annoying.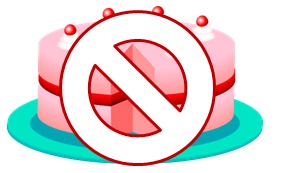 At first, I was confused why this was happening. I mean, Daniel's birthday was days before, so I figured there was an information glitch. By the 20th "friend" wishing me "Happy Birthday," it clicked! 9-3! I never went back and deleted the date. I was tickled by the responses from my friends that knew the truth ...
--Hmmm. I'm confused. Today isn't your birthdaty. Did FB screw up? If it's on the internet it has to be true, right?

--Really, how many birthdays are you going to have this year?

--Another year! Wow, does time fly! I'm in denial and you are having one every 6 months. We are now the same age. Some people will do anything for cake!

--So you are 50 now? So many birthdays!

--I'm always confused so it made sense to me; happy birthday early!

--Oh, what the heck, have two!
Then, there were the "friends" that I thought knew me well enough to smell a rat. But no, they called me special lady and throughout the day wished me a beautiful day, FAB day, happy day, special day and blah, blah, blah. Kind words are always welcomed, but I had to laugh.
So, the moral of this story? If you want to see who really knows you, change your birthday on Facebook and see what happens :)