A few weeks back, I signed up to work at the food pantry. Why? Because I wanted to stay involved at church. The last six months I served on the church's Women's Retreat Team and the "Ladies Getaway" was last weekend. This subject deserves a short story (coming soon) to share all the uplifting inspiration that drenched my soul. Planning the Women's retreat was like planning a wedding for one-hundred friends. A beautiful, spirit-filled wedding on the beach that lasted three days! Knowing my retreat commitment was coming to an end, helping feed the hungry was my next calling. While my husband and kids were in the desert riding quads (yes, I worry and pray for their safety all day) I helped families who had appointments to receive food.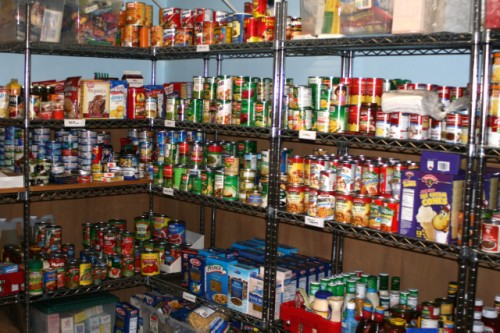 Arriving at 4:30 for my shift, I felt lost and overdressed. Note to self: food pantry attire is jeans and sneakers, no lipstick required. In minutes, I was introduced to the other volunteers that would be escorting families throughout the pantry and telling them how many items they could choose based on family size. There were many stops throughout: Sections for various breads, bakery items, vegetables, fruit, canned foods and frozen meat. It was an easy enough job (being bilingual would have made it even easier). That warm fuzzy feeling one gets when helping out is my favorite part, along with meeting new folks. Then there was that grateful feeling that swallowed me up as I watched individuals spend an entire minute deciding if they wanted either one can of soup or one can of beans. They could only pick one. Or observe as they debated over what dated bread they would take home. Bagels? Wheat? White? French? Rolls? Garlic bread? It was humbling because I always check the date bread expires when I go to Vons because I insist on the freshest bread and bakery items. I glanced at the pantry's bread and bakery dates that expired three days ago. Feeling my blessing, my heart took a silent gulp.
By the second hour my stomach was grumbling for dinner. But how could I say anything? I felt so thankful knowing I'd return home to a pantry full of various foods. I could pick and choose to prepare anything my tummy wanted. My vegetables are all fresh, as was everything in my refrigerator. Having an abundance of food at my fingertips has always been a "given." I assumed everyone lived this way. Last night God showed me what a gigantic blessing a stocked kitchen is. It seems so simple, but after volunteering at the food pantry I won't take it for granted again.